Designing an experience where diners can submit positive comments and constructive suggestions for the wait staff, and servers can use this feedback to both improve and help to secure new employment. 
Literature Review
User Research
Design
User Testing
Closure
Software: 
Adobe Xd, Sketch, Illustrator, Photoshop
Key Roles: 
User Interface, Design Research, Visual Design, Prototyping​​​​​​​
Timeline: 
Mar 2018 - Mar 2018 (1 months)
This application has been created to record server reviews and help them find better employment opportunities.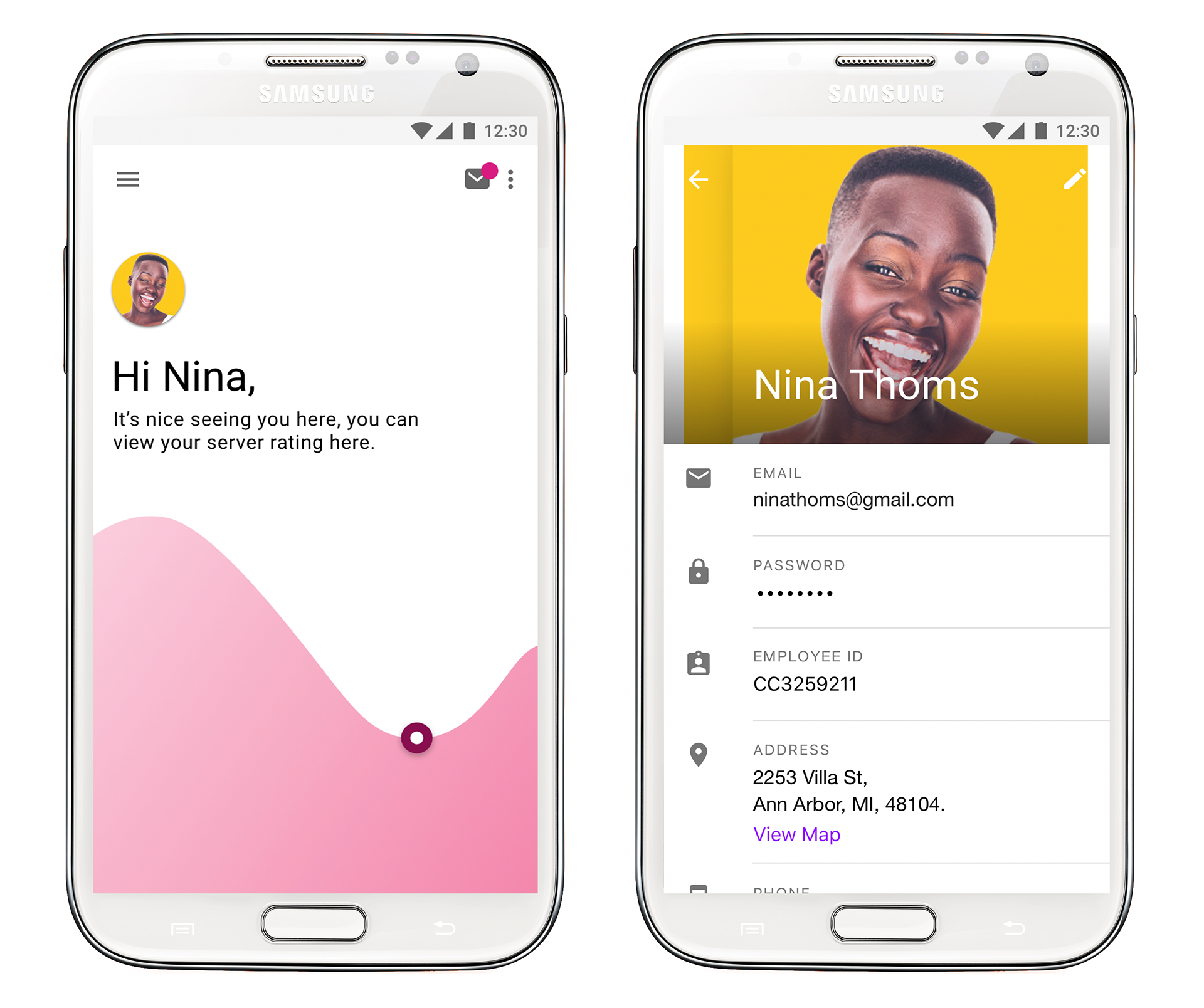 The chat option is available to servers and restaurant managers for hiring.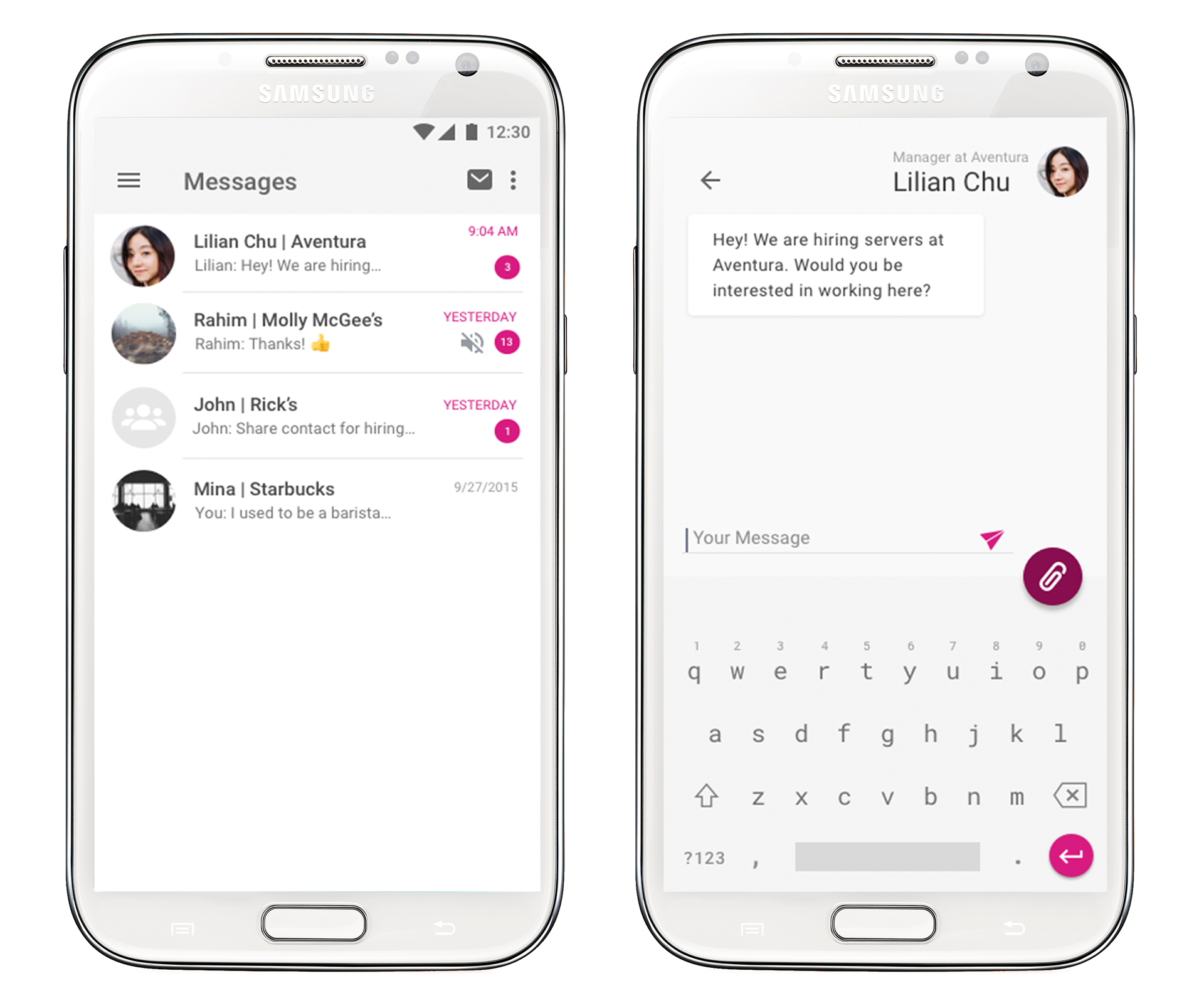 Visualizing Ratings and Reviews
Users can see the ratings and reviews over the last week and months.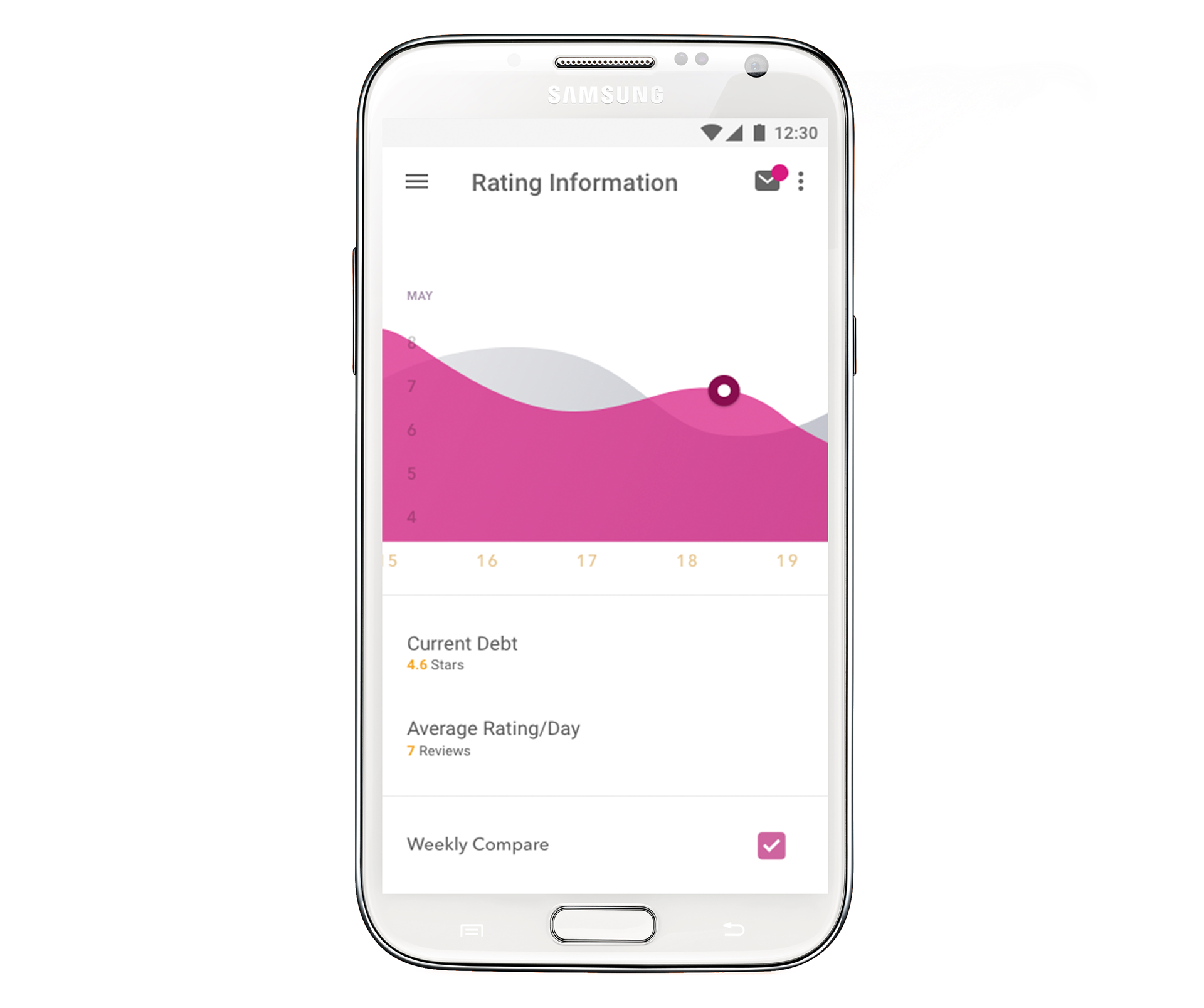 What are the users doing?
Online research on review system
Investigating the current review system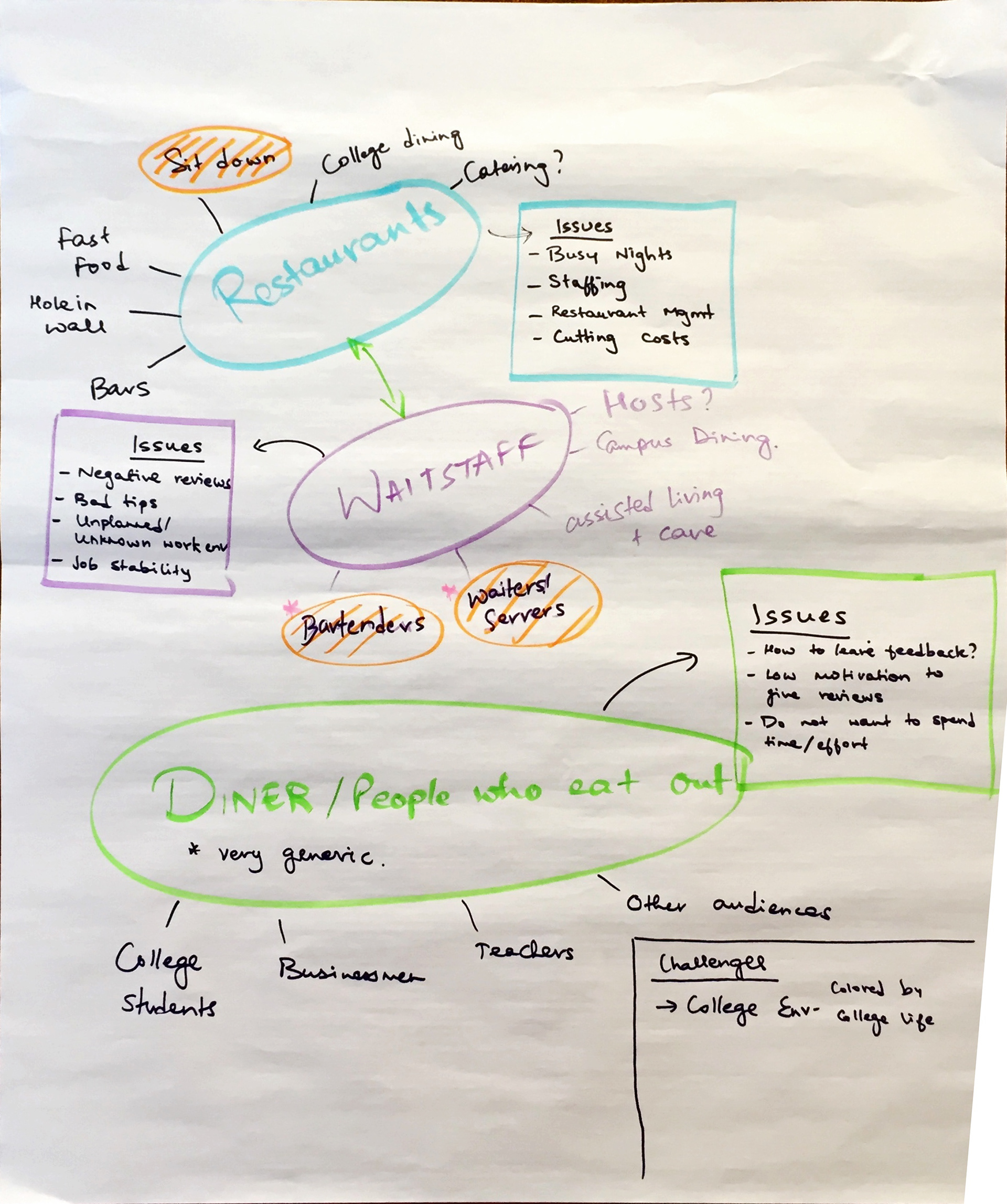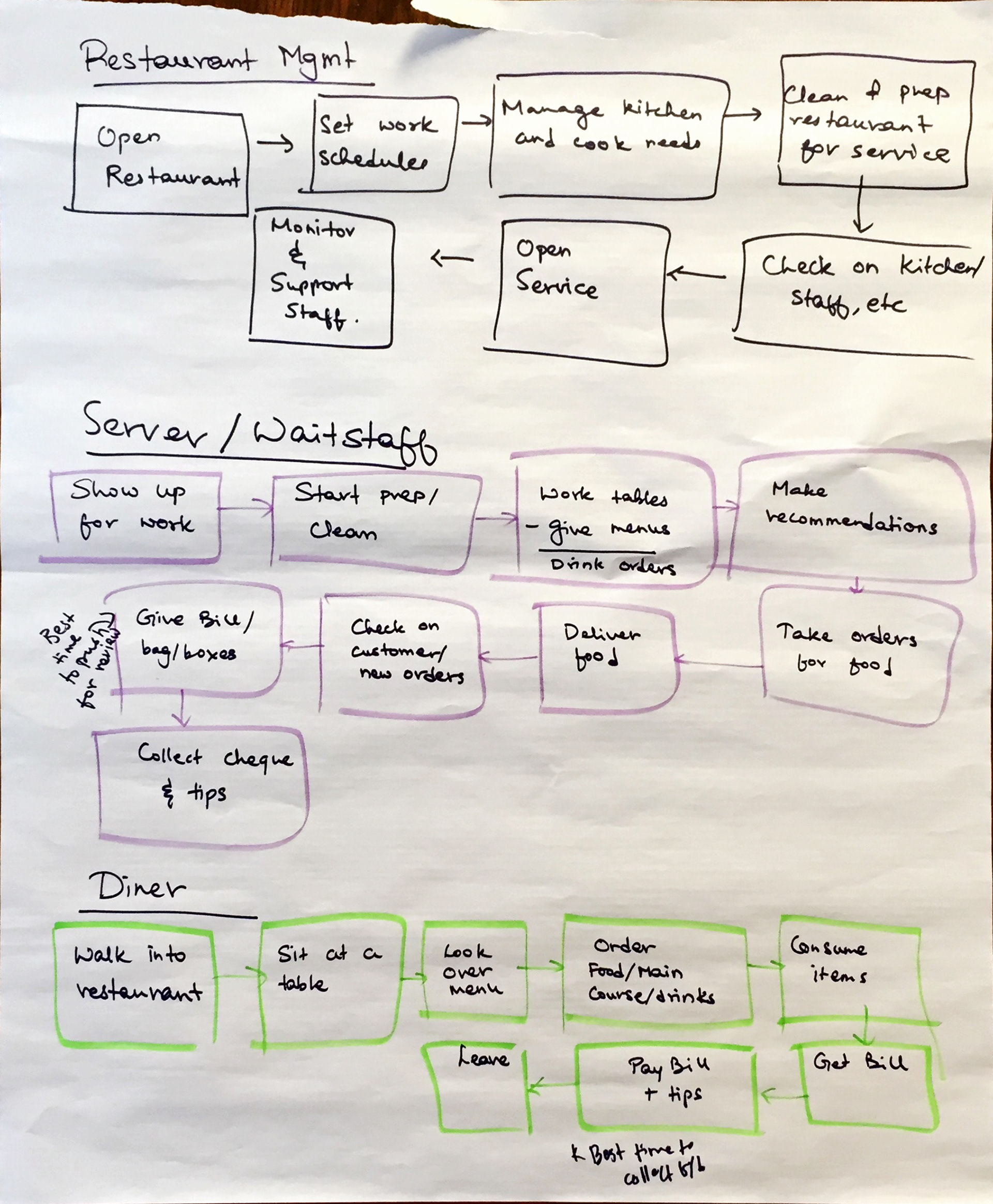 1. Bars
2. Sit down fancy restaurants
3. Diners
4. Catering
Other design considerations
1. Type of restaurant - expensive, diner, bar, etc.
2. Diner's state of mind
3. Point of sale system used for payments in restaurants
4. Use of Google Places as the starting point for this design challenge
Big Questions (more Research)
I jotted down a list of questions that I wanted to research before brainstorming a solution. The big questions include:
1. Why is a waitstaff review system not in place right now?
2. Why do/don't people leave a review?
3. How would people leave a review?
4. When would people leave a review?
5. Does leaving a review account for a behavioral change?
6. Is there a device preference for diners?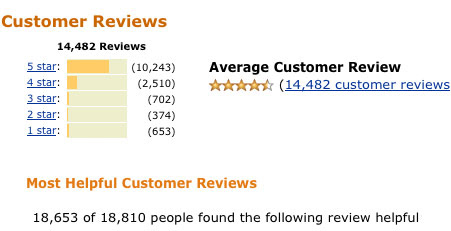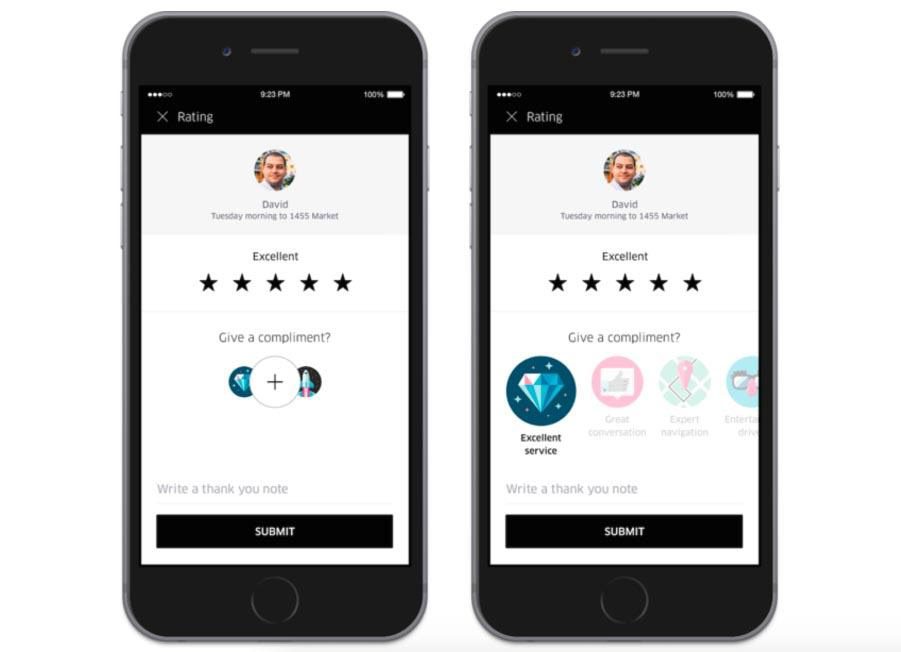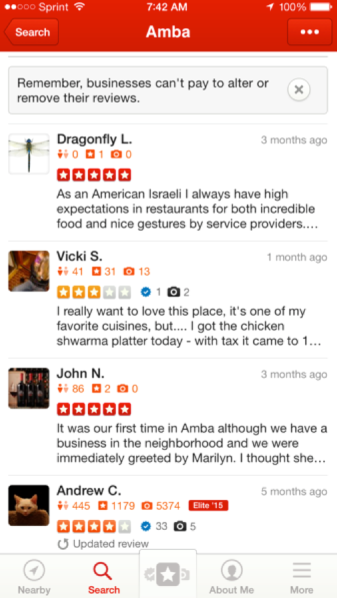 Studying Amazon reviews, Uber driver reviews and Yelp reviews.
1. Reviews should not be changed once posted
2. People who genuinely care about their dining experience will leave a review
3. De-biasing techniques are needed to remove bias
1. Servers that consider wait staffing as a career want to record reviews for future employment
2. Students/temp workers will not use this system
3. Manager will use this for hiring
4. Bars cannot use this system due to intoxicated customer having biased opinions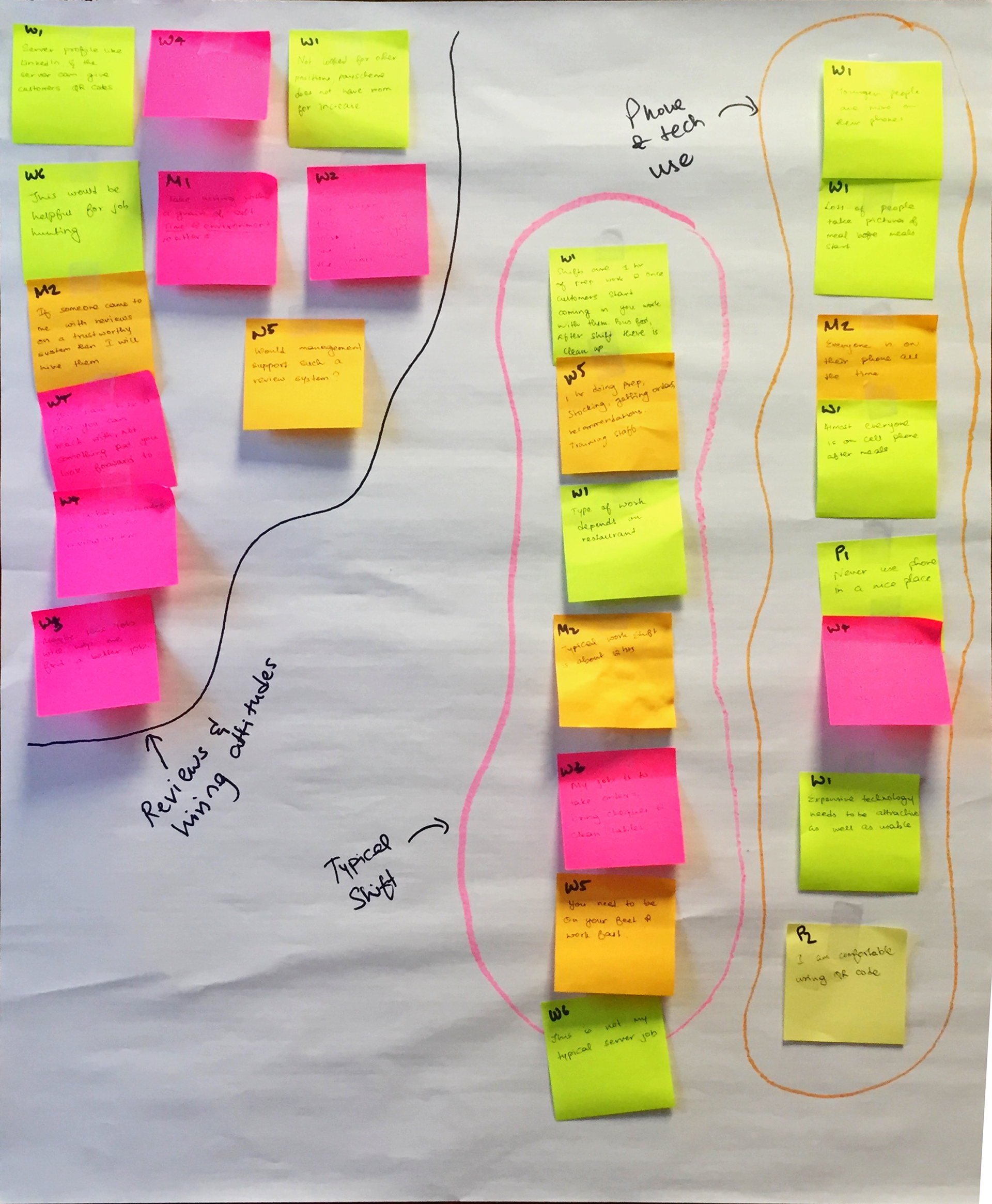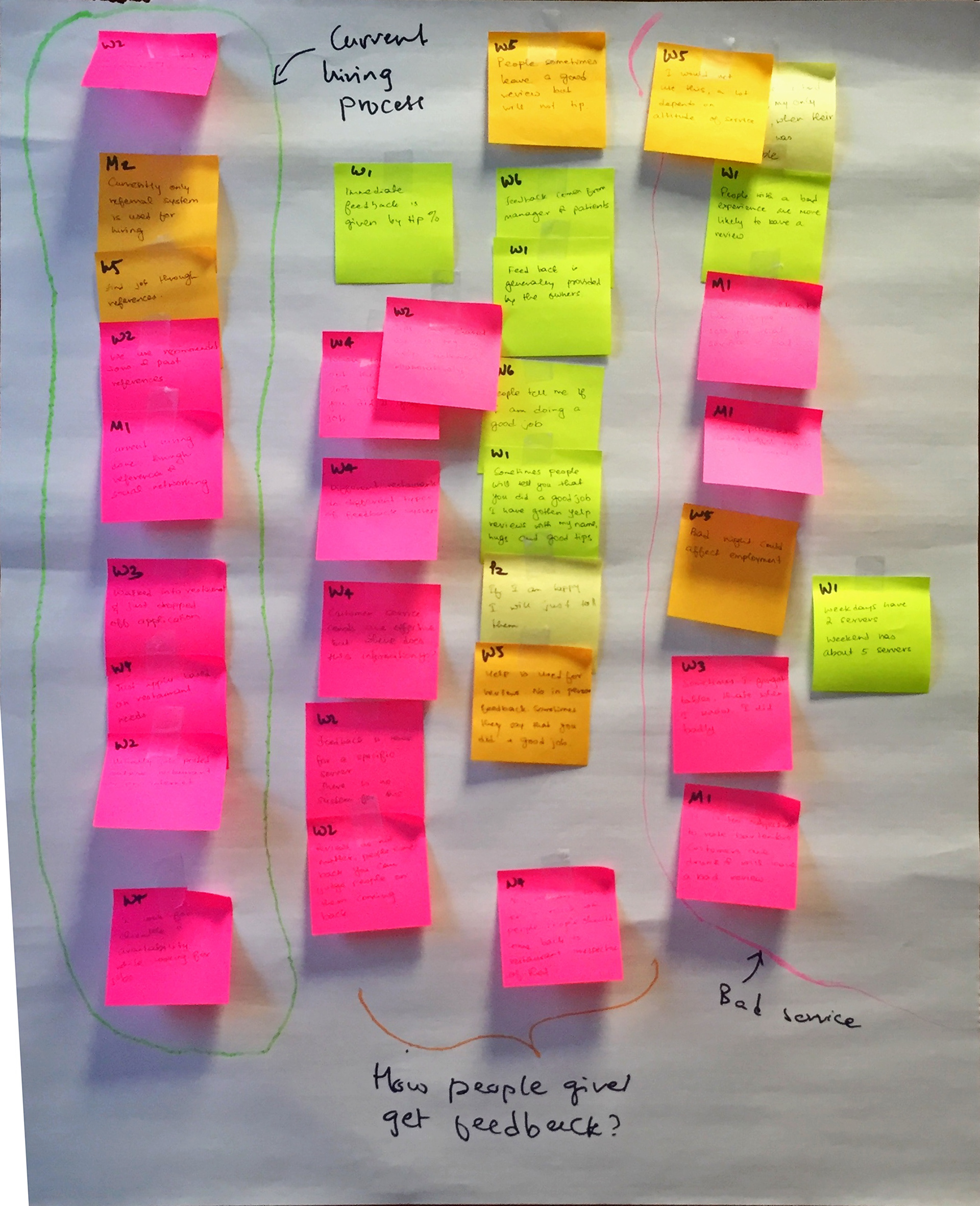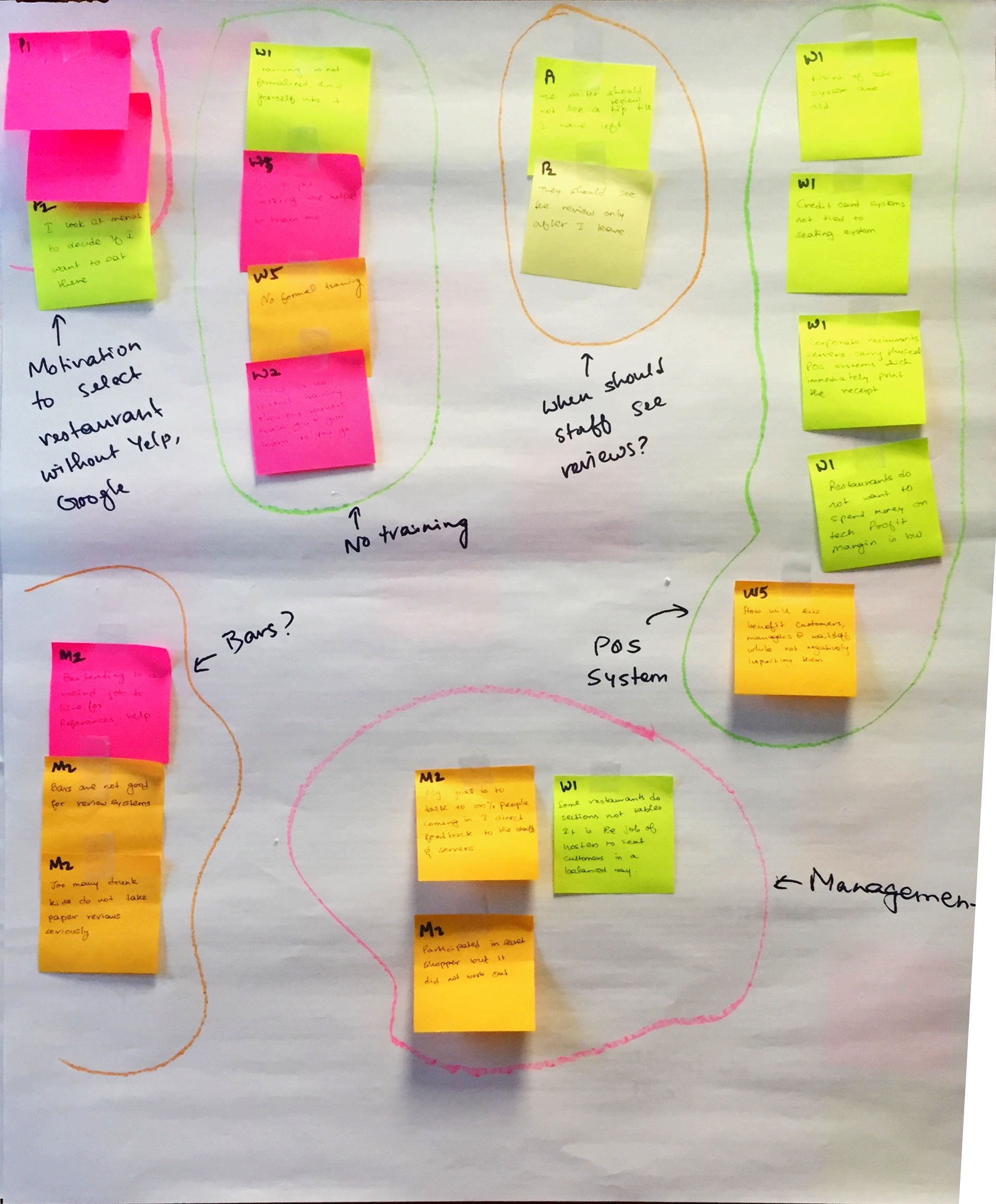 1. Best time to get a review is right after bill payment
2. Diners do not want to use personal devices for reviews
3. Servers and managers are aware of biases
Sketching possible solutions
Showing four out of eight possible ideas.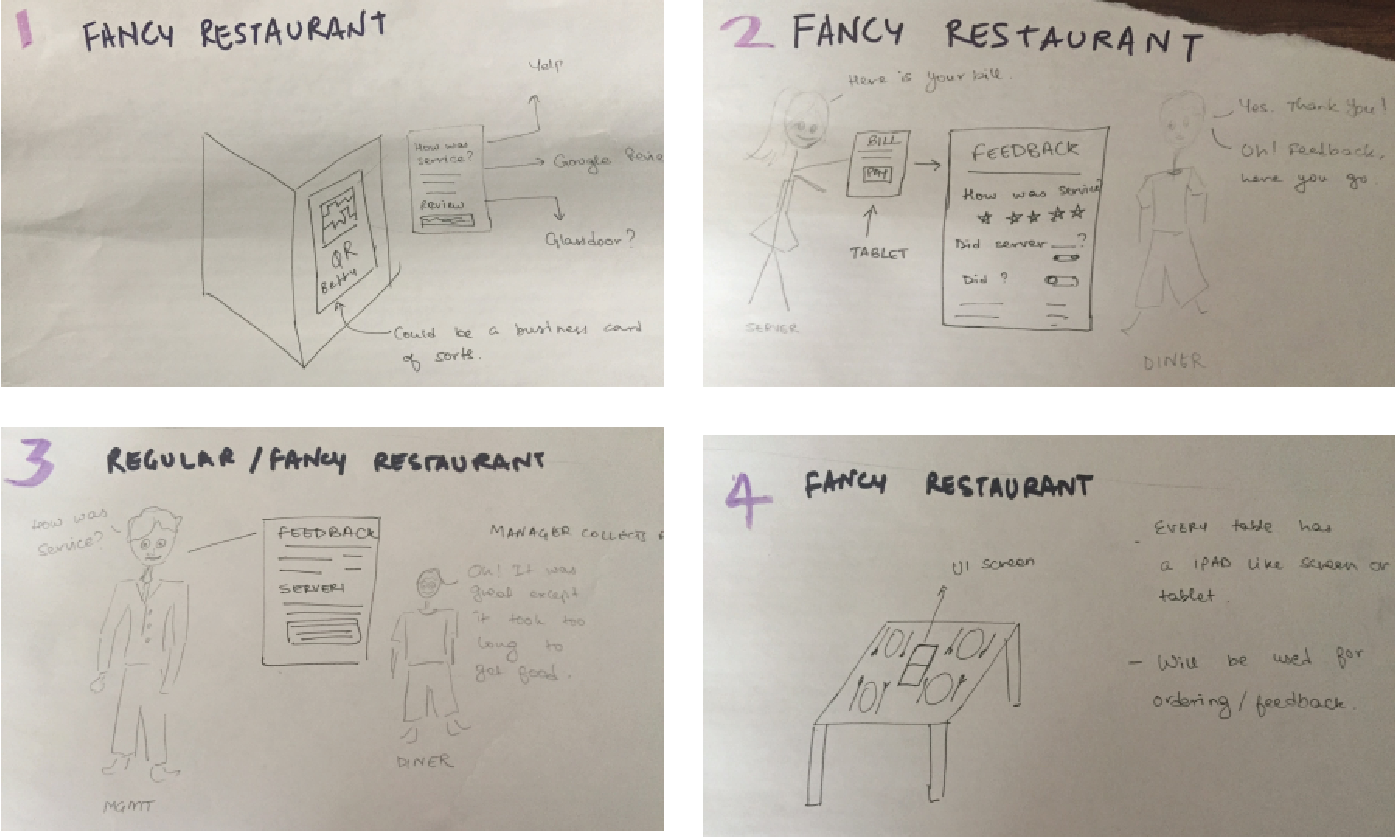 After testing with users, decided to pursue idea 2 such that it would support regular and fancy restaurants.
IDEA 2: Using a feedback system after billing diners using a POS system on a tablet. This gives an option for diners to review servers right after paying their bill.
I sketched and refined this idea to consider other stakeholders.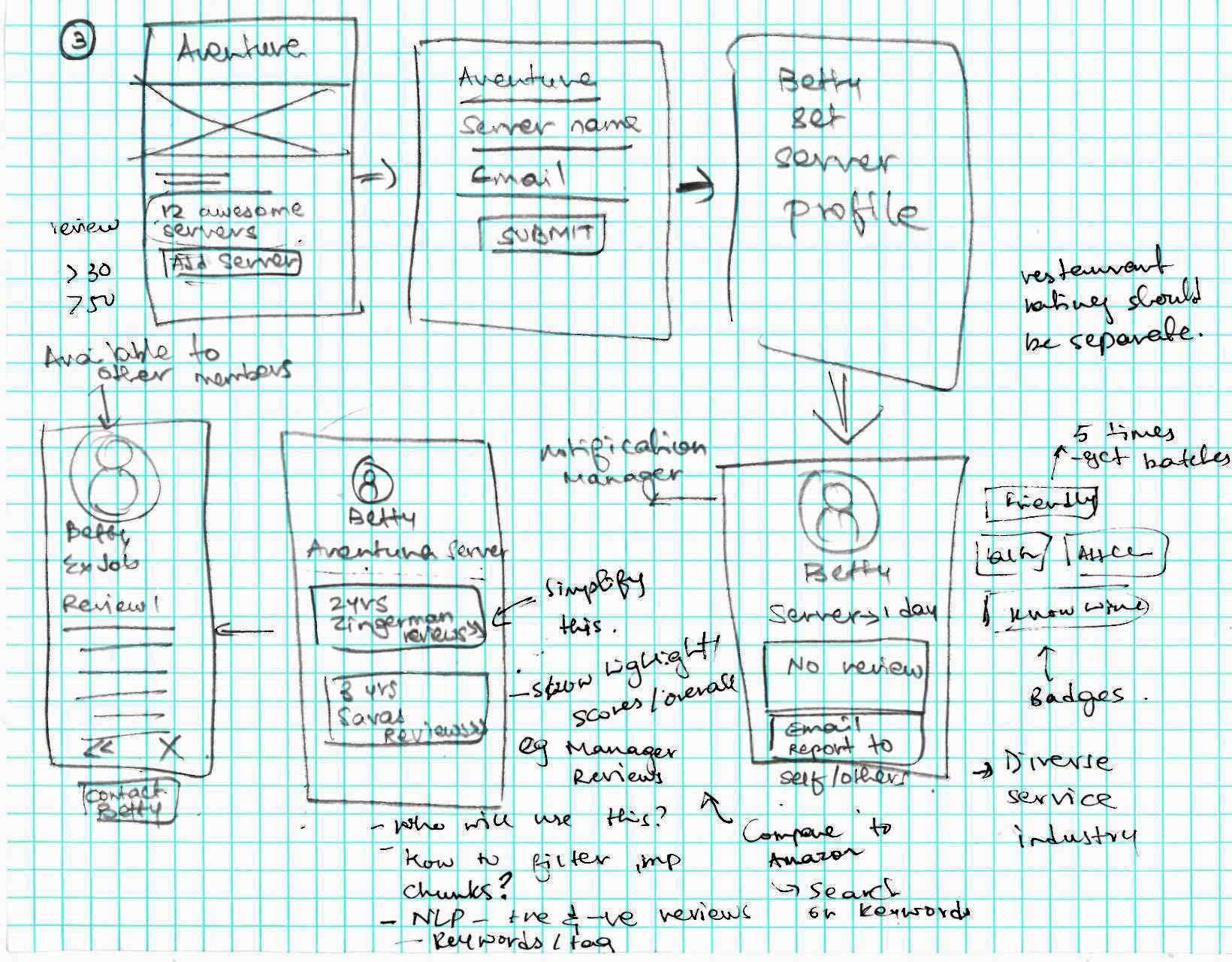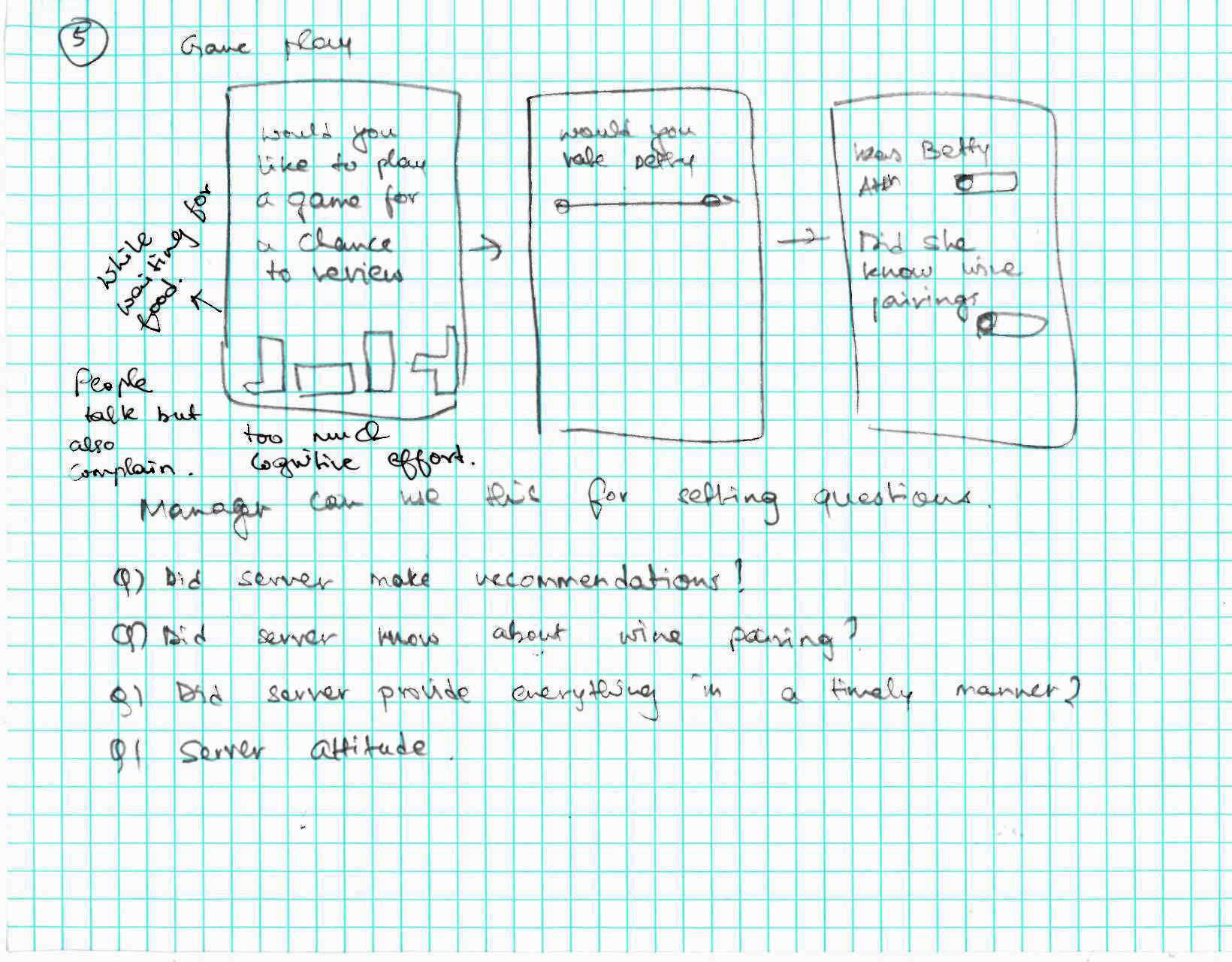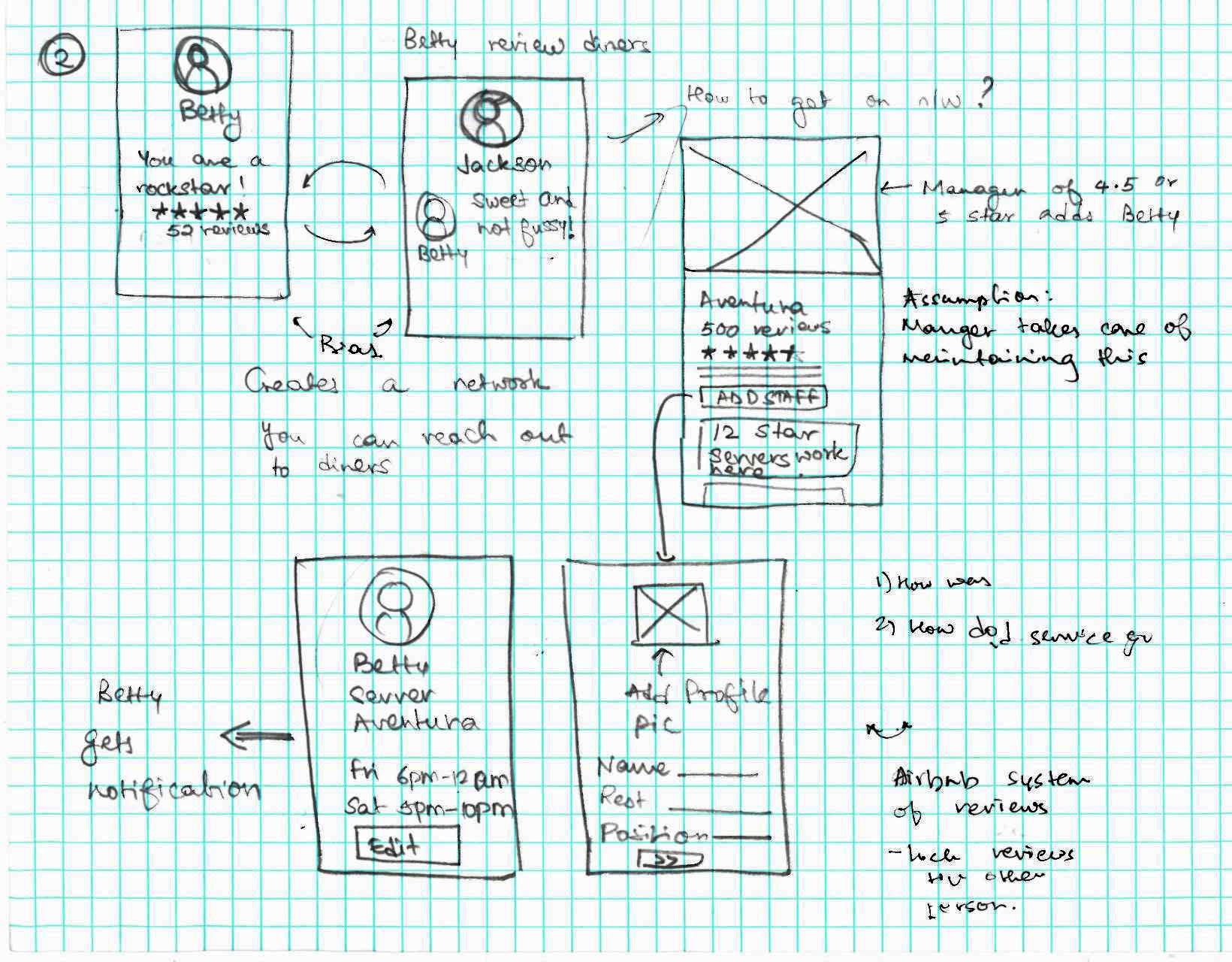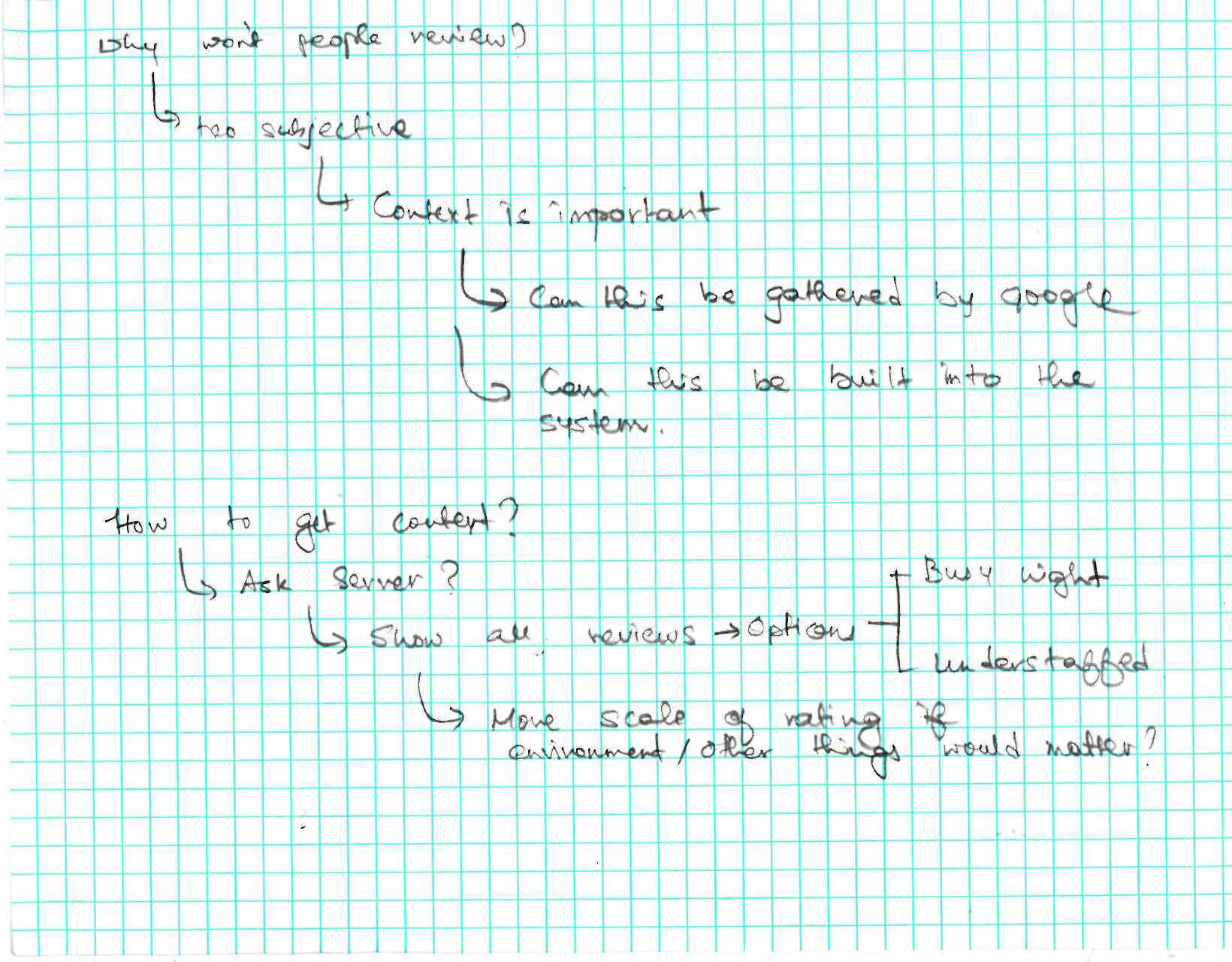 Servers will be able to debias reviews
This main focus of this solution is on how servers comment on biased reviews and maintain their information in a system which allows them to export their reviews and ratings to search for better career opportunities.
Designing a realistic review system
1. Focus on sit-down restaurants
2. Make a responsive application that supports multiple devices because:
    a. Managers prefer to use their laptops
    b. POS systems used for tablets (either on tables or carries by servers)
3. Servers prefer to use their phones for quick updates
4. Build a system that allows servers and wait staff to report biases
5. Show good and bad reviews and provide context about environment and other factors affecting service
6. Building exclusivity into the system to increase demand
7. Create a subscription service for managers to view servers from different restaurants and message them for possible interviews
The following shows how the diner, server and manager workflows would interact with each other.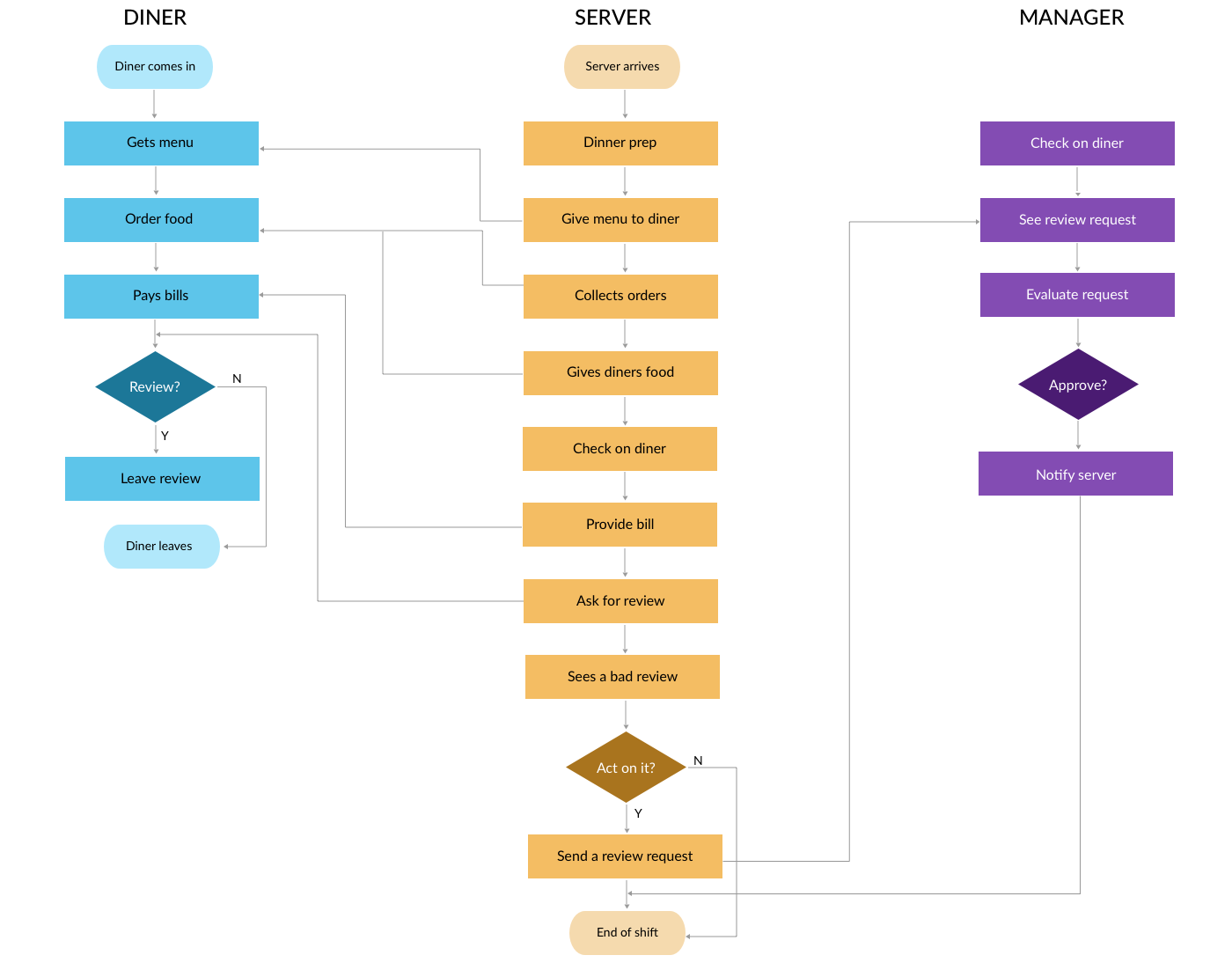 Diner, manager and server experiences
I started with creating wireframes for different interactions using Google Places.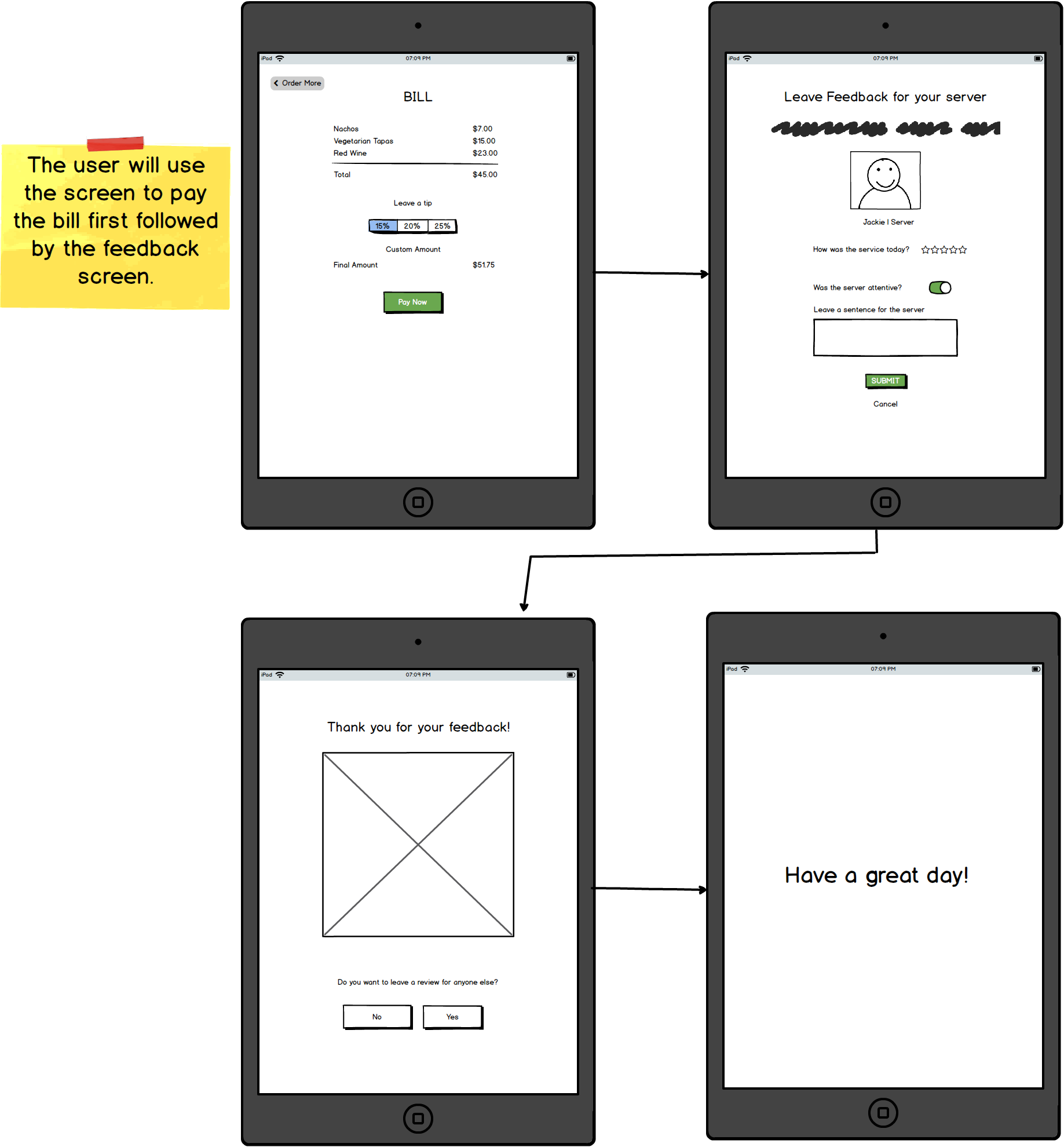 Based on the user research, this feedback screen should be shown immediately after paying the bill.
1. Adding a server
Managers at restaurants should be able to set up server profiles.
This would be only available to restaurants with 30+ reviews and a rating of 4.0 or more on Google Places. This exclusivity and credibility provided by Google would help this product succeed.
This process shows how managers will set up server profiles.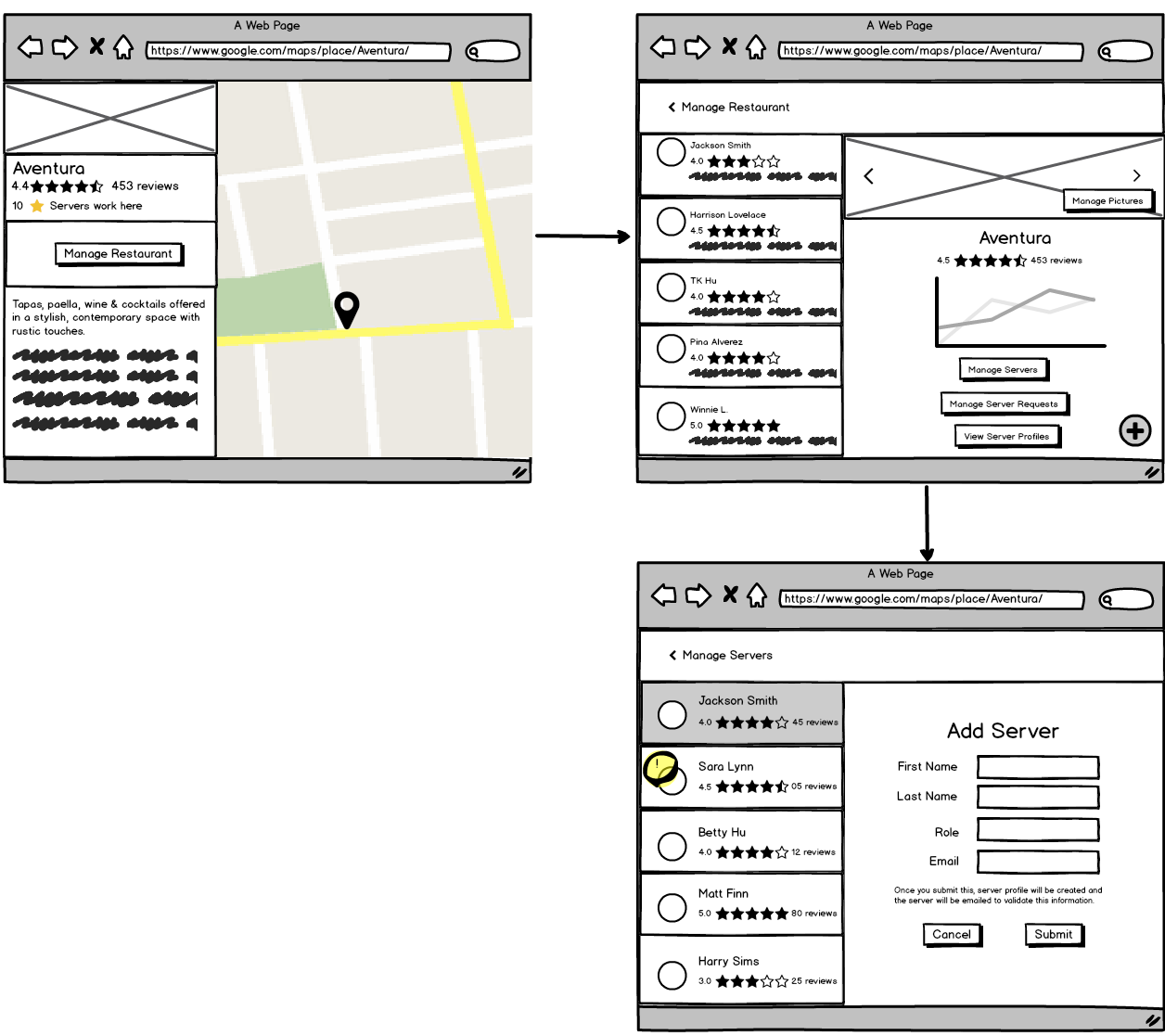 2. Bias reported to manager
The servers can report bias or a difficult service by sending a review comment to the manager on a bad review received.
In case this is valid, the manager can approve this comment such that the review shows the manager approved comment as shown here.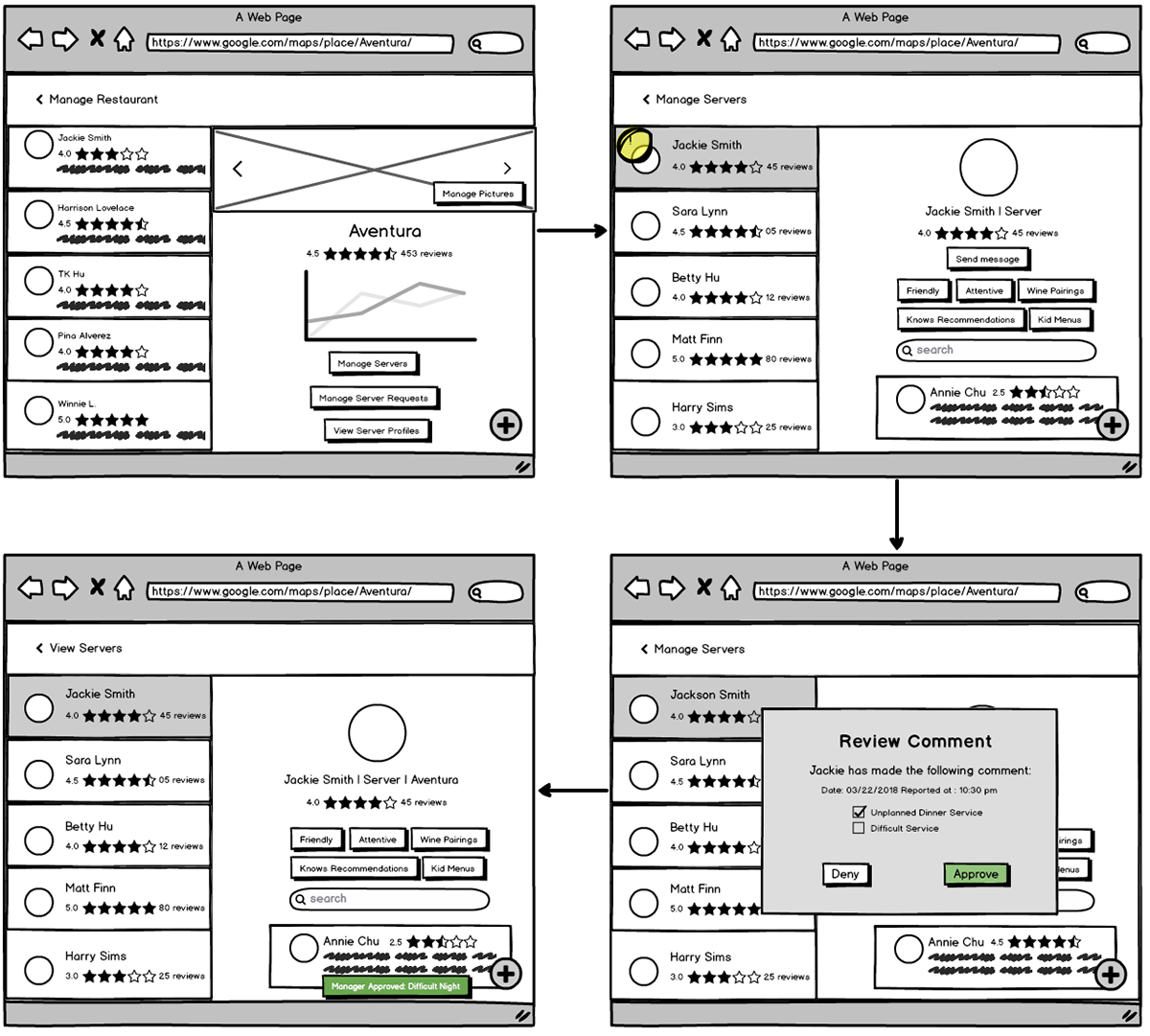 3. Manager hiring needs
Managers can get access to the servers from other restaurant based on a subscription system.
In case any abusive comments are reported, the manager will be blacklisted.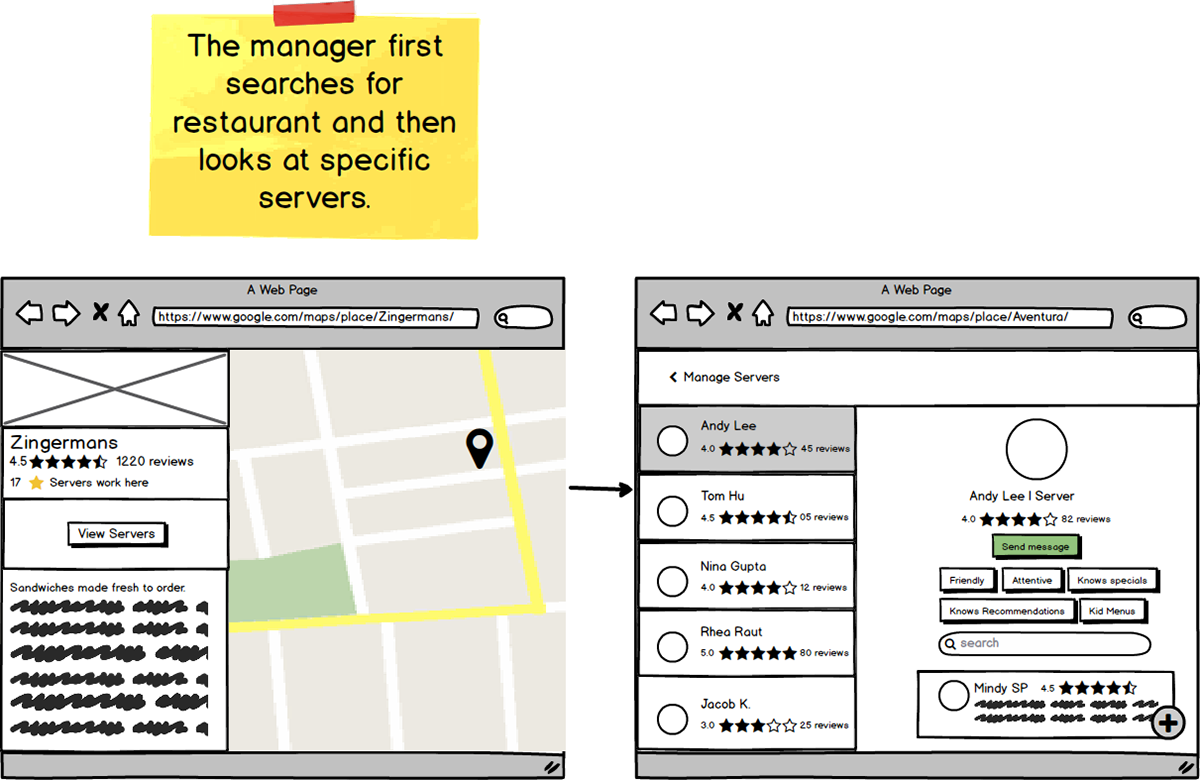 1. Creating a server profile
After the manager creates a server account, the server can decide if he/she wants to opt out of system.
If they decide to use the system, it will create a profile for the server where all the reviews and ratings can be stored.
The number of reviews and the rating will allow the servers to collect badges or points to become a platinum starred server.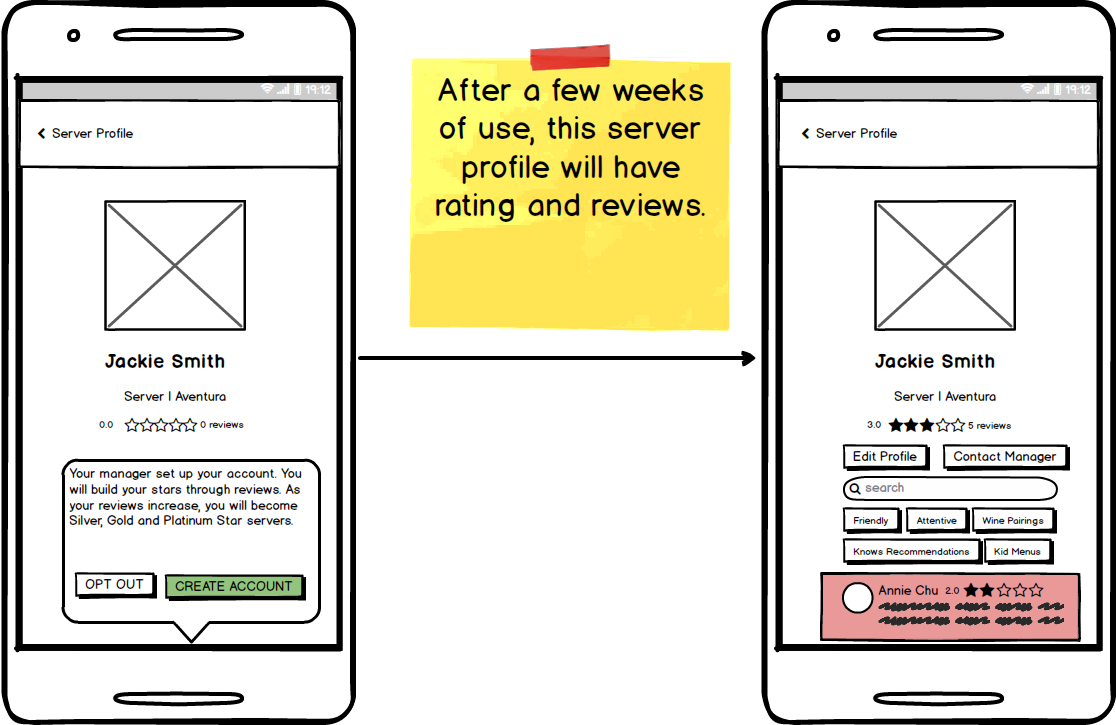 2. Reporting bias
In case the servers feel that there was bias or that they received a bad review due to the environment and other circumstances, they can send a review comment to the manager for approval.
This will provide an explanation for the bad review.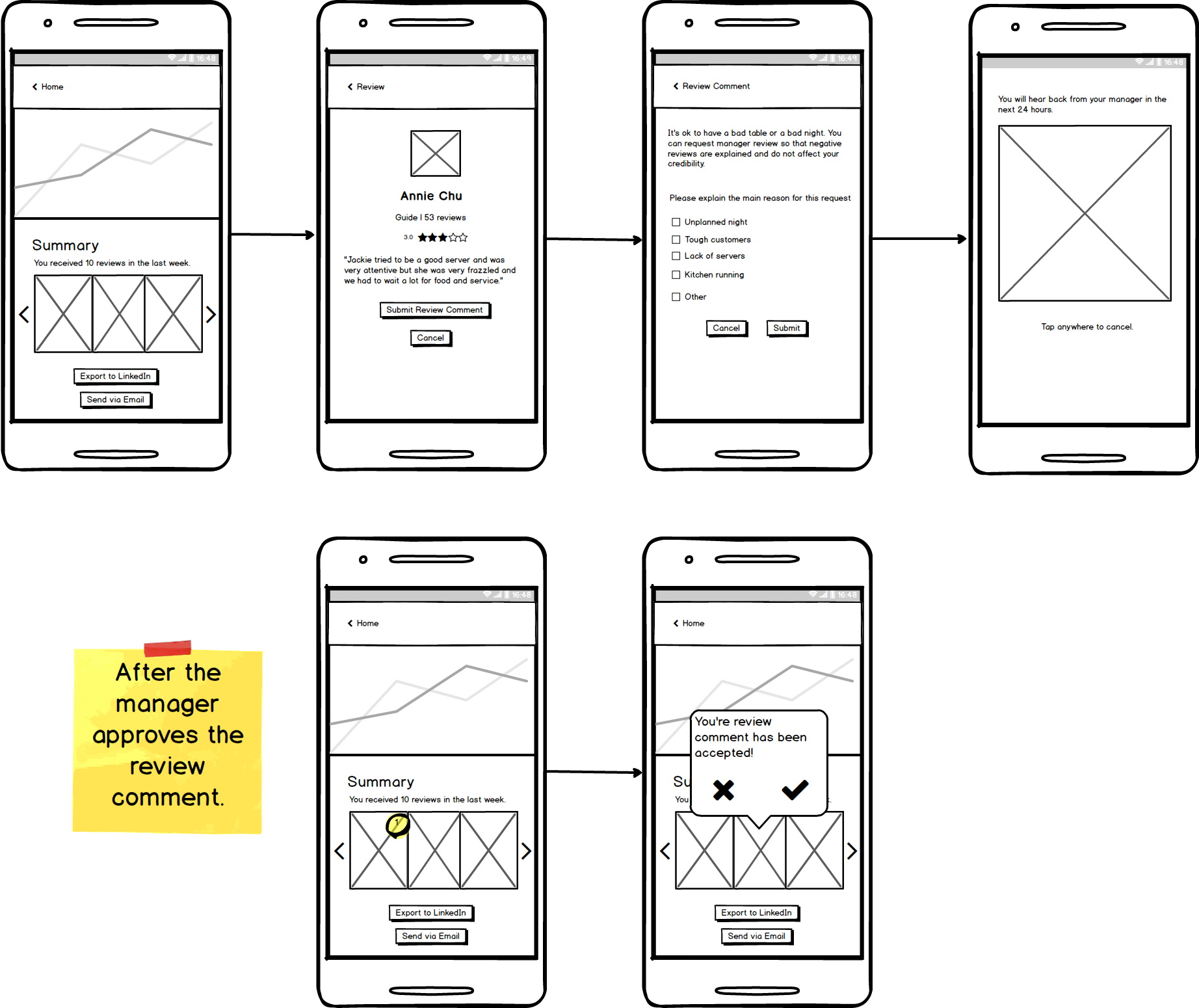 3. Hiring related messages
The hiring message can be seen by servers through their home page.
They can make plans to interview with different restaurants or deny their request.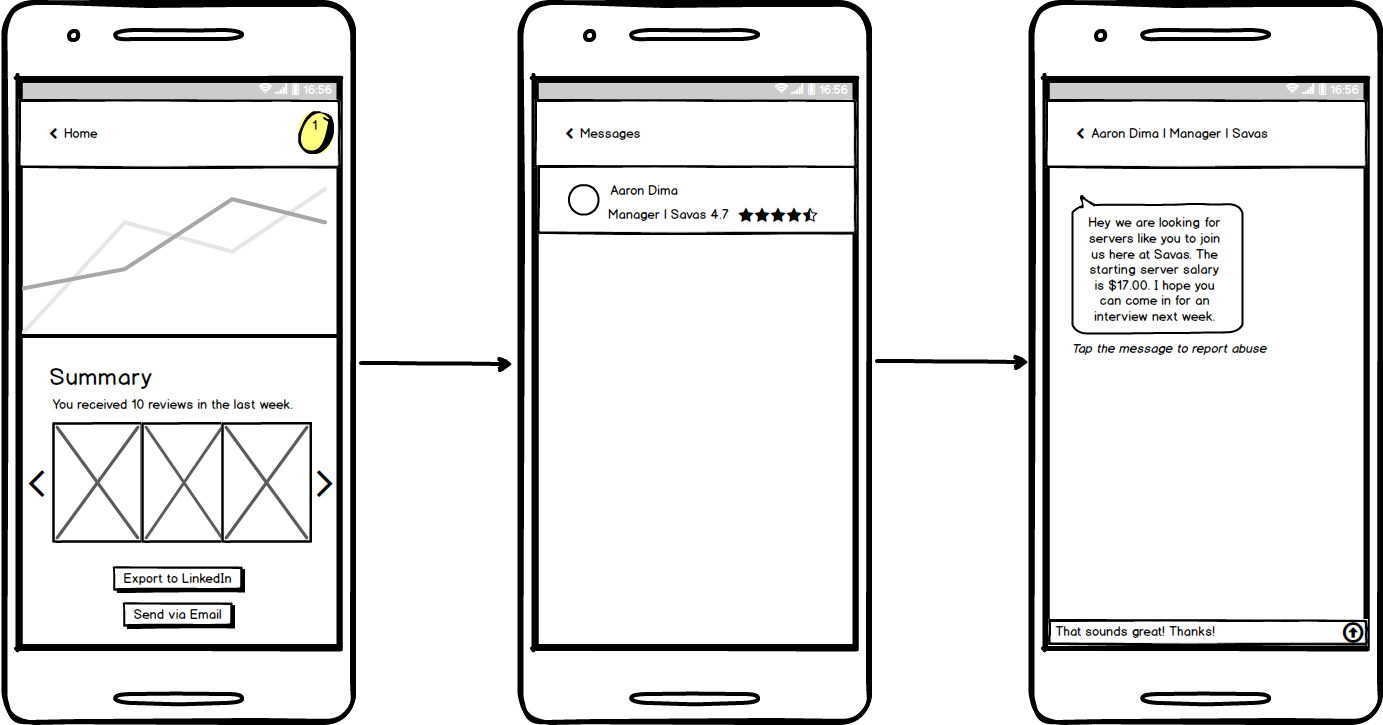 High Fidelity Designs - Server Hiring Experience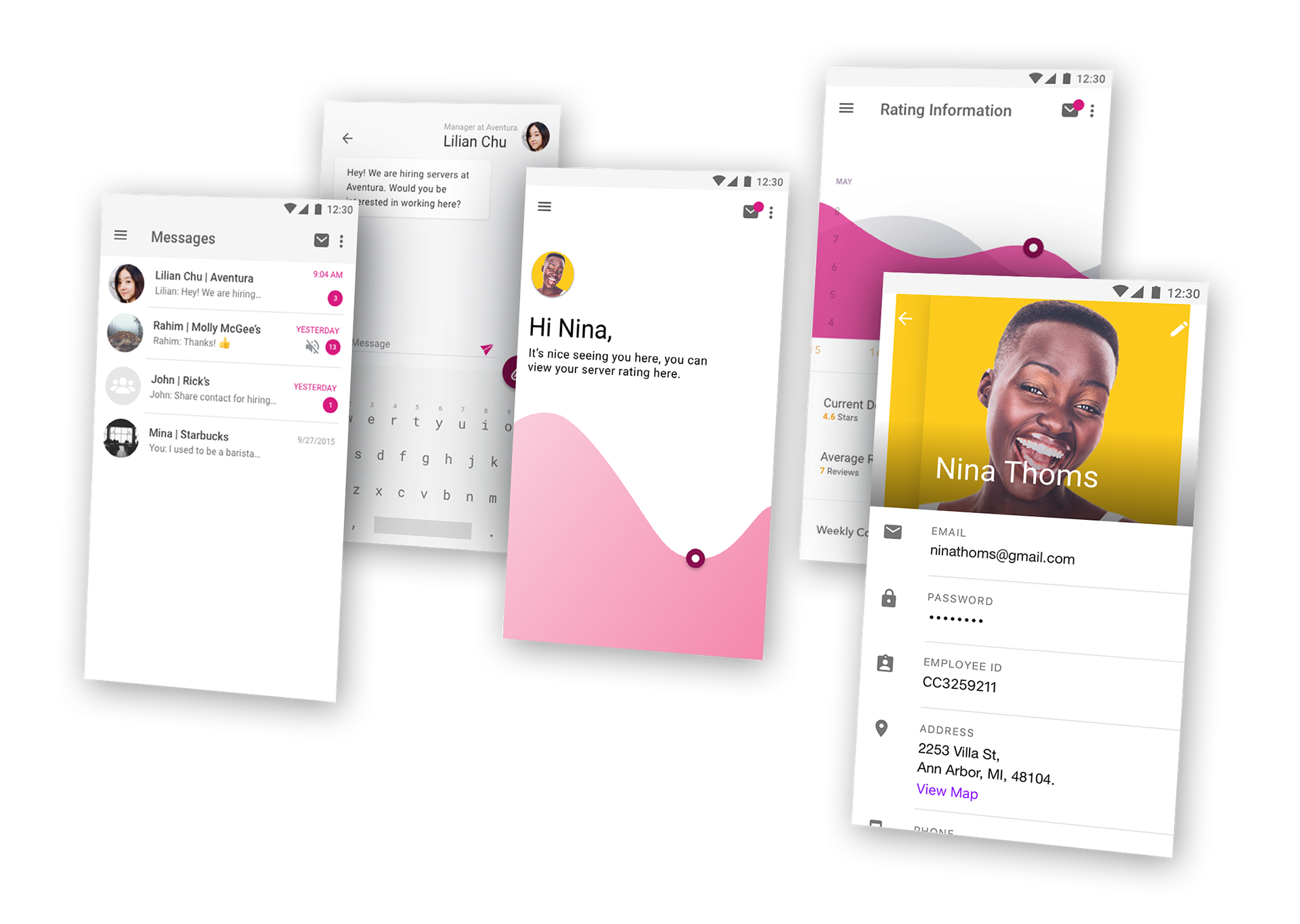 The testing findings include:
1. Diners: Happy to use the new system as it reduces any extra work to review staff
2. Servers: Would use the send to PDF and Export functions to display their reviews
3. Managers: This would need an iteration because it makes poaching staff fairly easy. There should be a better way to regulate this.
1. There is a need for behavior change, asking for reviews increases chance of getting reviews from diners. This can be integrated in the future.
2. Interviewing racially diverse participants about their experiences made me realize how important it is to consider the effect of bias.
3. Thinking of how the server consents to share information with other peers and managers.
4. This system can work with data from Google Maps routing diners to the restaurant to help managers and the wait staff be better prepared for an "unexpected" rush.